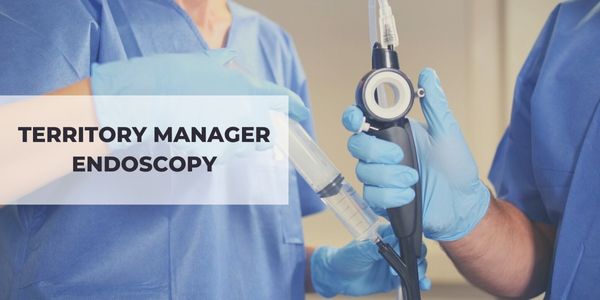 Location: North West, Manchester, Liverpool. May include some work in Birmingham, but the majority of the time will be in the North West.

Product: Singe use bronchoscope
Who you'll be working for:
Starting in 2006, this surgical company design and manufacturer single-use flexible video bronchoscopes. They conceived and continue to develop tomorrow's innovations in single-use endoscopy. Driven by innovation, they consider it their mission to provide healthcare professionals with quality solutions to the benefit of their patients.
The new generation bronchoscopes are the result of 2 years of R&D with established physicians and they address the needs and challenges facing healthcare professionals with an innovative design.
You will be joining a newly created team in the UK and as such will need to use your knowledge of the buying process as well as a can-do attitude and business development skills to build relationships with key customers throughout the North West.
What you'll enjoy:
Great products which have been well endorsed by clinicians.
Ground floor opportunity with a company who are coming direct to the UK market for the first time, so you'll have the opportunity to grow with the business.
Friendly, family feel privately owned company with a culture of supportive but autonomous working.
The opportunity to help establish a new company in the UK with responsibility for your own territory, business and contacts.
Excellent development and growth opportunities.
Great pipeline of products with another new product due next year.
What you'll be doing:
This is one of the first sales role within a new company to the UK, so you'll be developing the business from scratch and establishing this organisation's single-use bronchoscope as the scope of choice in the hospitals on your patch.
You'll be networking with a range of stakeholders in order to convert those accounts currently using single use bronchoscopes as well as converting those currently using reusable scopes.
Stakeholders you will be selling to include Procurement, Anaesthetists, Intensivists, Pulmonologists, Respiratory Consultants.
Here's what you need:
With sound experience of selling medical devices into the acute setting you'll have either sold into, or worked in theatre, anaesthetics or ITU and have a demonstrable track record of achieving results.
You'll understand the purchasing and procurement landscape of the NHS and how to make an impact.
As someone who is skilled at developing new business you'll be a self-starter who is able to work autonomously and make things happen.
Bonus points if you have:
Experience working in a similar product area.
Any pre-existing contacts within key decision-making stakeholders in the hospitals on territory
Basic Salary: Negotiable depending on contacts and experience but as a guide c £50- 58k
Bonus: £24k OTE
Car policy: £600pm car allowance
You might be feeling a little underchallenged in your current role. Perhaps as a result of your success, you're feeling that you've achieved as much as you can on your patch and are yearning for a role where you can really put your business development skills to use and see something grow!